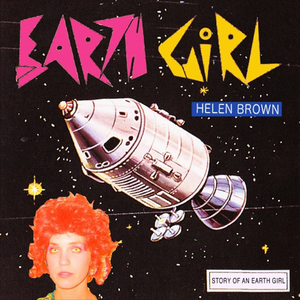 $

12.00
The debut EP from Earth Girl Helen Brown. Limited to 500 copies on white 10" vinyl. North American orders only. This is a pre-order, records will ship on or around March 1.
INTERNATIONAL ORDERS
Rough Trade (UK)
Helen Brown was born in Vancouver, Canada, but raised in an Athens, Georgia-based religious cult, and was blinded in one eye from a childhood baseball injury. As an adult, she dropped out of Evergreen and traveled the country for a while as a nomadic psychedelic folksinger, before forming her first band One Eyed Tramps. For years, she lived alone in a mountaintop in southern Alaska, where she befriended a Cherokee Shaman (later revealed as a fake) who encouraged her to pursue a frustrating academic career. Rampant drug use, frequent fainting on stage, and occasional self-inflicted knife wounds on stage led to more interest in her stage antics than her music. However, a few sides did emerge in the late '90s (recording dates unknown), which feature a unique mix of country, girl group, R&B, and ghoulishness. Crude and amateurish at best, these recordings are appreciated for their sincerity and intensity of feeling.
Story of an Earth Girl tracklist:
1. I Walked All Night
2. Cry Baby Cry
3. Girls of My Dreams
4. Hit After Hit
5. Operation Self Destruct
6. Story of an Earth Girl