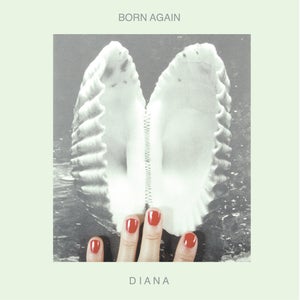 $

12.00
pre order links below AND please ask at your local record stores:
UK: http://www.roughtrade.com/site/shop_detail.lasso?search_type=sku&sku=358770
US: http://www.insound.com/Born-Again-12inch-DIANA/P/INS114940/
Side A: "Born Again"
Side B: "Born Again" (Doldrums Remix!)
Forest Family Records is happy to announce the release of our next 12" from Montreal pop group, DIANA. The A-side is the breezy "Born Again," a track that has already accumulated over 100k plays on soundcloud. The B-side is a disjointed remix from fellow Canadian pop experimentalist DOLDRUMS.
DIANA is the musical partnership of Joseph Shabason (Destroyer) and Kieran Adams, brought together in an effort to satisfy an urge to create deft arrangements using their trained backgrounds (they met studying music in university) and set them against woozy synth driven soul pop backdrops. Vocalist Carmen Elle's addition, with her lush and thoughtful interpretations, took things to the next level. Their sound has all the allure of the Roxy Music and Sade, but their homage to the 80s begins and ends there. The past 30 years have pushed the boundaries in pop music and DIANA have been raised on this creative surge. Their new self-titled album, recorded at Boombox Studio with Roger Leavens, is set for release in 2013. It's not about sounding like New Order, it's about being the new order.
*Selection of the pressing on MINT green* ****
Born Again' skitters with lo-fi drama while
simultaneously delivering a crisp neon 80s vibe that
would fit perfectly in a slow motion montage of lovers
driving down the 10W at sunset in an imaginary John
Hughes/Michael Mann movie." – KCRW
"Toronto band DIANA does some light, intergalactic
disco pop on "Born Again." The songs splits the
difference between headphone candy, psychedelic
waves and breezy dancefloor-ready tact." – RCRD LBL